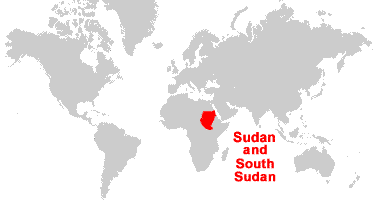 Sheikh Gilani and MOA have had strong ties to Hasan al-Turabi, the leader of the National Islamic Front and the regime of Sudanese President Omar Bashir when it has partnered with Turabi. The cleric has been dubbed the "Pope of Terrorism" for his wide-ranging contacts in the terrorist world and efforts to unify Islamist groups into a common front.[i]
On December 16, 2003, a member of the Sudanese parliament named Syed Dr. Malik Hussein Hamid visited MOA's Islamville compound in York County, South Carolina.[ii]
The Sudanese regime is listed by the U.S. State Department as a State Sponsor of Terrorism. Hussein is very close to Turabi and was the President of the Sudanese Data Bank. He was the chairman of the parliamentary subcommittee on foreign affairs, security and defense as of 2014.[iii]
MOA claimed that he saw a miracle inside their holy shrine and became a follower of Gilani's and visited him at his home in Lahore, Pakistan.[iv]
"My whole visit to this shrine was instigated, inspired, and or­dered by the Maulana Shah Mubarik Gilani who made his orders to his followers to re­ceive me and take me around," MOA quotes him as saying in a statement published in Sudan.
The earliest indication of a MOA presence in Sudan is in 1983. The MOA newspaper said it has a correspondent there that went by the name of Abdur-Rahman Muhammad Qadri. A MOA contact list from the 1980s or early 1990s lists the Islamic University of Omdurman in Sudan.
Gilani is said to have set up a base in Sudan by 1992. He was involved with four terrorist training camps that churned out 3,000 recruits.[v]
A 1993 State Department intelligence document said that Sheikh Gilani is linked to a "mujahidin hub" that includes multiple allied Islamist terrorist groups. It reads:
"A close working relationship reportedly exists among [Gulbuddin] Hekmatyar, Egyptian Islamic Gama'at spiritual leader Sheikh Omar Abdel-Rahman, Yemeni Islamic Jihad leader Sheikh Zindani and Sudanese National Islamic Front (NIF) leader Hassan al-Turabi. Sheikh Jilani, the leader of the Jama'at al-Fuqra based in Lahore, is also believed to have some ties to the mujahidin network. This circle of mutual admiration nurtures the network of safe havens, bases and logistical support."[vi]
Every single one of the terrorist allies of Sheikh Gilani listed above were closely linked to Osama Bin Laden and Al-Qaeda. The memo said that Bin Laden was financing the "Blind Sheikh" Omar Abdel-Rahman's network in the United States by funneling money through Hassan al-Turabi's National Islamic Front.[vii]
The Fuqra/MOA newspaper raged against the U.S. government's designation of Sudan as a State Sponsor of Terrorism in August 1993 as part of an "unofficial war that has been waged against the Muslim world."
On December 2-4, 1993, Hasan al-Turabi organized a massive Islamist terrorist summit in Khartoum, which Sheikh Gilani attended. He was noticed by Muslim journalist Nazim Baksh, who videotaped the event and interviewed Gilani for a documentary.[viii]
At the time, Usama Bin Laden was sheltered in Khartoum and some press reports say that Bin Laden himself attended, while others only reported the presence of unidentified Al-Qaeda representatives. The objective of the event was to bring together a wide spectrum of Islamist terrorists and regimes into a single front for jihad against their common enemies.
An investigative note written by law enforcement based on the testimony of a credible source attending the event said that Turabi was turning Sudan into a theocratic Islamic State and base for Islamist terrorists around the world. The source reported that the decision was made to focus their efforts on jihad in Afghanistan, Israel/Palestine and Bosnia.
The source saw Gilani with an operative of Pakistani ISI intelligence named Khalid Khawaja, who is known to be close to many terrorist groups. Khawaja asked that Gilani's presence at the event be kept a secret. Gilani claimed to be leading fighters in Kashmir and expressed interest in making an impact in Egypt and Syria.
The source said that Sudan decided to sponsor all the Islamist groups involved, which would include Fuqra, and that Iran had a "tremendous presence" at the event. He reported that Gilani had made a decision to minimize his profile and ordered his followers in North America to similarly become low-profile. The source said that Gilani was recruiting enlistees for a six-month training course in Pakistan with the ISI intelligence service.
In 1994, the group published a book condemning the "barrage of Zionist lies" against the circle of Sheikh Gilani, Omar Abdel-Rahman (the "Blind Sheikh" linked to the 1993 World Trade Center bombing), Hasan al-Turabi and Gulbuddin Hekmatyar.[ix] It also rejected accusations that the Sudanese regime violates human rights.
The book states, "the last remaining obstacles of the international gangsters, the Zionists, plan for a new world order is Pakistan and Sudan, two nations which are resisting completion of this final execution of a one world government."[x]
It also mentioned Sudan as a possible location for an Islamic Center of Islamic Thought for a unified, anti-Western Islamic bloc with a single military.
Little is publicly known about Fuqra/MOA activity in Sudan besides the 1993 summit and Gilani's political support for Sudan, Turabi and the terrorists the regime sponsored. However, a former member of MOA of nine years said that Gilani "has many supporters in Sudan."[xi]
Another possible link to Sudan is through a group called the Jawala Scouts Hunting Club that existed in the early 1990s in Philadelphia. Convicted MOA member James Upshur was a member. It is unclear if the group was entirely a MOA front or exploited by a key operative. The Club was certified by the NRA. A similarly-named organization called the Jawala Muslim Youth Association was incorporated in Philadelphia in March 1993.
Years later, a group called the Jawala Scouts formed in 2005 under the leadership of a radical group founded in Sudan in 1985 named the Sankore Institute of Islamic-African Studies International. Social media activity indicates some degree of contact between MOA members and the SIIIASI. The group's Jawala Scouts operated in Philadelphia and counter-terrorism researcher Joe Kaufman exposed the paramilitary-style activity of the Scouts in 2010.[xii]
---
[i] Joscelyn, Thomas. (2005). "The Pope of Terrorism." Weekly Standard. http://www.weeklystandard.com/the-pope-of-terrorism-part-i/article/7079
[ii] "Hate-Mongers Posing as Christians Visit Holy Shrine." (2008). Islamic Post. https://islamicpost.wordpress.com/2008/07/21/hate-mongers-posing-as-christians-visit-holy-shrine/
[iii] "Sudan Slams Egypt's Decision to Appoint Local Administrator for Halayeb." (2014). Sudan Tribune. http://www.sudantribune.com/spip.php?article52495
[iv] "Gilani & Sudan: The Turabi Connection." (2006). Politics of CP. http://politicsofcp.blogspot.com/2006/07/gilani-sudan-turabi-connection.html
[v] Millard Burr, R.O. Collins and J.M. Burr. (2003). Revolutionary Sudan. Brill Academic Publishers.
[vi] "The Wandering Mujahidin: Armed and Dangerous." (1993). State Department Intelligence and Research Bureau.
[vii] "The Wandering Mujahidin: Armed and Dangerous." (1993). State Department Intelligence and Research Bureau.
[viii] Baksh, Nazim. (1995). "Seeds of Terror." Canadian Broadcasting Corporation. It can be watched on the Fuqra Files YouTube channel: https://youtu.be/4vNz_rkGWik
[ix] Target Islam: Exposing the Malicious Conspiracy of the Zionists Against the World of Islam and Prominent Muslim Leaders. (1994). Quranic Open University and Pakistan Foundation for Strategic Studies.
[x] Target Islam: Exposing the Malicious Conspiracy of the Zionists Against the World of Islam and Prominent Muslim Leaders. (1994). Quranic Open University and Pakistan Foundation for Strategic Studies.
[xi] More information about the defector can be found in the section of this website about first-hand testimony.
[xii] Joe Kaufman and Beila Rabinowitz. (2010). Philadelphia's Islamist Boy Scouts. FrontPage Magazine. http://www.frontpagemag.com/fpm/65463/philadelphias-islamist-boy-scouts-joe-kaufman
---