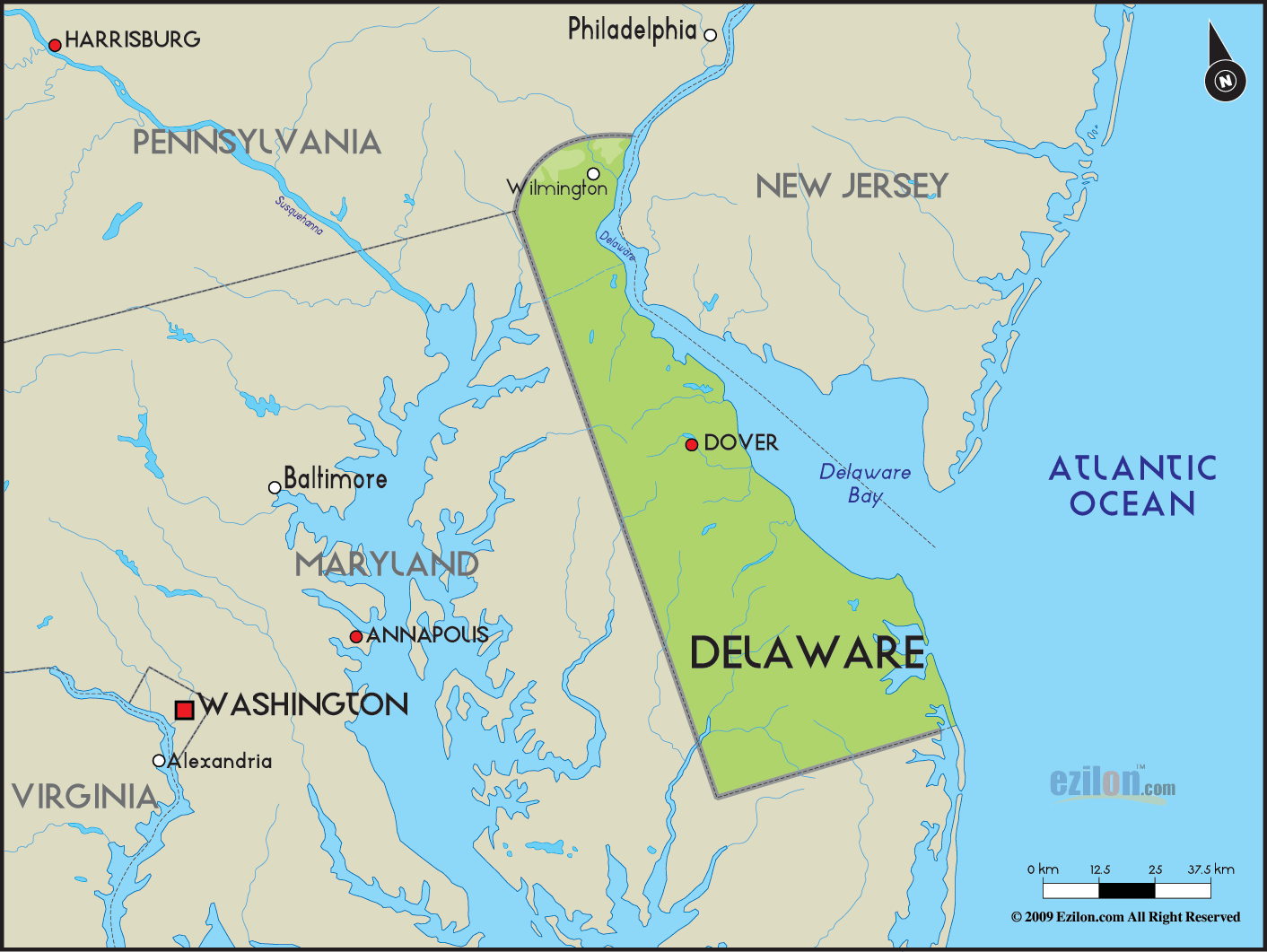 A website apparently affiliated with Fuqra listed a "Muslims of the Americas Da'wah Center" at 301 West Division Street, Dover, DE.
[1]
A 2001 Colorado Department of Corrections report states that Fuqra/MOA had at least one cell in Delaware at the time.
[2]
A MOA front in the state was linked to a counterfeiting ring in 2007. A MOA-owned business was also investigated in 2004 for transporting drugs to and from Red House, Virginia with Mexican cocaine traffickers.
A MOA document that appears to be from the early 1990s states that an official known as Nazim M. Abdur-Rasheed lived in Delaware and was the "jamaat administrator" overseeing the network in the state and South Jersey.
---
Muslims of the First State in Dover Linked to Drug Trafficking
Authors Martin Mawyer and Patti Pierrucci discovered that a non-profit registered as a "church" named Muslims of the First State was a MOA front in 2007 after one of its officials was arrested for a massive counterfeiting ring in Virginia that generated $7 million in revenue.[3] Muslims of the First State was formed in September 1998 and granted the non-profit church status in 1999.
The MOA-linked counterfeiting ring included a member named William Statts who had an address of 349 W. Loockerman St., Dover, DE. He was a board member of Muslims of the First State and was previously arrested for felony theft, illegal possession of firearms, drug trafficking and fraud in 1984, 1990, 1998, 2000, 2001 and 2002.
The listed address of Muslims of the First State was 331 W. Loockerman St., only two numbers away from Statts. The president of the "church" is named Brent Garfield and he worked at Domino's Pizza when Mawyer encountered him.
When Mawyer met Garfield, he said he has been a MOA member for 15 years and traveled to various camps across the country, but was not a leader. Garfield said he needed permission from MOA leadership to go on camera. He praised Sheikh Gilani and repeated Gilani's claim that any MOA member involved in crime is actually a secret agent for Gilani's enemies.
When asked about Statts, Garfield refused to say whether he is also a MOA member and would not provide any details about the group. He conceded that "I was part of" the Muslims of the First State "church." He said that the multiple locations listed for the non-profit is because they frequently moved the location because they couldn't pay the rent.
Garfield lied to Mawyer by saying he had left the Muslims of the First State about six years ago in 2001. However, a 2005 form filed by the organization listed him as a treasurer and secretary in 2001.
Mawyer also found that Muslims of the First State was dissolved on January 1, 2003, but the necessary form was not filed until January 21, 2005. When he met Garfield in 2007, the IRS still listed the organization as an active "church." Garfield claimed he "forgot" to tell the IRS.
Registered "churches" like this MOA front have almost no accountability. As Mawyer explains, there is no oversight of revenue, non-cash contributions, spending, acquisitions, or opening of bank accounts across the country. Even board members can be hidden. Delaware, he says, is the best nation for forming a corporation.
To put this in perspective, the largest terrorism-financing trial in U.S. history was the prosecution of the Holy Land Foundation. It was registered as a charity, so it had much more oversight than a "church" like Muslims of the First State would. Even with that oversight and open-source reporting about the Holy Land Foundation's links to Hamas, it operated from 1990 until its assets were frozen in 2001 and its leadership convicted in 2009.
If it is that difficult to prosecute a well-known Islamist charity, then prosecuting a covert MOA "church" is exponentially more difficult.
By dissolving Muslims of the First State in 2003 and not alerting the IRS, it was able to hide its existence while maintaining the benefits of having a "church," which can include still having an Employer Identification Number so operatives can set up tax-exempt bank accounts around the country that don't need to be reported to the IRS.
Notably, one part of the mission stated on the front's original incorporation papers is that its purpose was "to solicit, receive and administer funds, grants and property…"
Garfield did not report the dissolution of the front to the IRS after Mawyer told him about it. It was not done until Mawyer gave a firm deadline, the passing of which would trigger his filing of a formal complaint to the IRS.[4]
In a very similar incident, the leader of a "church" registered to the property of MOA's "Islamberg" headquarters (named Ikhwanul Muslimun, meaning Muslim Brotherhood) told Ryan Mauro of the Clarion Project in 2012 that he stopped activity with the "church" decades ago and did not know that it still existed. Sheikh Gilani and MOA later claimed that the "charity" was part of an operation by enemy infiltrators to carry out criminal activity in order to damage the group.
2004 DEA Investigation
Declassified DEA documents from October 2004, obtained by Ryan Mauro of the Clarion Project, show that the DEA was investigating drug trafficking by MOA between Dover, Delaware and Red House, Virginia, using a transportation company as a front.
According to the files, law enforcement in Dover had "linked several Muslims to a Mexican cocaine trafficking group. [Redacted] a member of the MUSLIMS OF AMERICA. Investigation by the Dover POD has shown that [redacted] is associated with 4 U Transportation, a company suspected of transporting cocaine based in Dover, DE. Previous investigation shows that members of the MUSLIMS OF AMERICA (MOA) have been observed near Red House, VA in vehicles registered to 4 U TRANSPORTATION. [Redacted] is an associate of MOA members."
The suspect of concern was identified by the FBI, DEA and ATF "as having a leadership role within the MOA."
---
[1] "MOA Da'wah Center Directory," n.d. Al-Adaab.org. Accessed August 11, 2016.
[2] "Memorandum: Fuqra." (2001). Colorado Department of Corrections.
[3] Mawyer, Martin. Twilight in America. (2011).
[4] Id.